​

GreenCasaMaryland is Silver LEED Certified!
LEED stands for "Leadership in Energy and Environmental Design", and are standards the EPA has made to promote green and sustainable design in building construction. GreenCasaMaryland is committed to achieving LEED Certification in the construction of our model home. Watch this video below that explains what LEED certification is, and check back for articles on specific things we have done to help us achieve our goal of LEED Certification.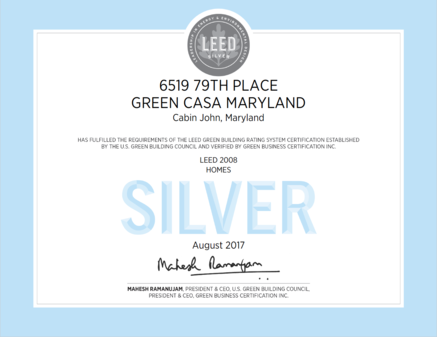 What are we doing to get LEED Certified?
Below you will find various things GCM is doing to qualify for being LEED Certified and a brief explanation why.
​
FOUNDATION
​

1) We tamped the soil down below footers well, and installed drainage pipes to assure proper drainage around footers. Proper water drainage is a must in LEED certification.
Close-up detail of the layers of solid and spray foam insulation installed prior to fiberglass insulation:

6) Tyvex Thermawrap R 5.0 insulating Housewrap was installed for maximum insulation. Step & Kickout Flashing was done around dormer, and rain and ice shields were installed at all valleys and intersections of walls and roof.
5) We assured water drainage away from interior of walls at edges, and put water channels to drain water away from windows.

4) We sloped the deck and porch away from the house, allowing for natural drying of the assembly. We also attached deck ledger boards to the structure without disrupting the drainage plane. We used an E3-rated "Green" Defy wood stain and used western red cedar wood for the deck flooring and siding, a more sustainable wood.

8) To deal with Interstatial Condensation, we "re-used" pieces of insulation to super insulate the cold water main coming in, and laid down gravel under the water main out for proper drainage. We assured the dryer vented outside, and we then installed corrosion-proof anti-rodent screens.

6) We used BuildBlocks forms and concrete walls, so we use less trees, which is a more sustainable method. They will also handle storms well and will last for decades.

5) We backfilled the foundation with loose, porous material assuring proper water drainage.

2) We installed insulation at edge of footers forming a vapor seal, retarding water seepage.

9) The Gypsum Boards (or "drywall") were chosen for VOC absorption, water and mold resistance, and sound dampening. GCM went with the Certainteed line of sustainable construction products. Click on the various pictures below to find out more information on each gypsum board. On the walls "AirRenew" gypsum boards will absorb unhealthy vapors such as formaldehyde, Easi-Lite for the ceilings, M2TECH around areas exposed to moisture, and finally SilentFX gypsum board for sound dampening for the basement TV/Music room, which all adds up to a better environment and more LEED points.
4) The attic and crawlspaces will be insulated with many materials and layers, such as Certainteed's R19 fiberglass insulation, which isIndoor Air Quality Association certified, is Energy Star certified, GreenGuard.org certified, and NAIMA certified. Certainteed's R19 is made from recycled and recyclable content, no formaldehyde is added, and also helps reduce noise. Also, GCM has a double layer of solid foam insulation, as well as spray foam for any cracks or gaps. All of this will help us achieve maximum LEED points.
7) The walls are super insulated, and foam was used to seal all the cracks. We REUSED leftover pieces of Insulated Concrete Forms to insulate the walls also, along with donated insulation from GreenGuard.
3) Metal drip edges were installed to channel water away from the structure, and every detail was seen to assure construction was of the highest quality.
8) The overhang was designed to be well over 10 inches to deflect water away from the walls. This also prevents solar degradation of the walls and helps lower temperatures, thereby reducing the need to operate the heat pump and/or air conditioning unit.
ROOFING

Roofing plays a crucial role in meeting LEED certification. We designed the roofing carefully to help us achieve LEED Certification.
3) We fully "flashed" all door and window openings, and other areas. This provides maximum water diversion, and will prevent water degradation.

2) We thoroughly sealed the spaces between the doors, windows and all penetrations with a non-toxic foam, maximizing insulation and therefore requiring less energy to cool and heat the house.

3) We then laid down gravel for good drainage around footers. We installed ozone-friendly insulation to thermally isolate the slab. We then covered that with plastic sheeting for a vapor seal between the footers and slab. Finally, we sealed all penetrations into the slab. A radon vent pipe was installed.

4) We had the foundation sprayed with a non-toxic sealant below the soil, and then we installed E-Pro ECODRAIN-E membrane which diverts water away from the foundation, sealing all edges watertight. We then finished installing the footer drainage pipes assuring proper water drainage around foundation.
And much much more…