GCM has installed a Rain Garden to be more sustainable, slow down rain water runoff, hold the soil, to filter the rain water, and to prevent rain water runoff to waterways. The bottom layer consists of sand, wood and tree bark, then sustainably-harvested peat moss from Canada. Below that are pictures of the piping that will help divert and collect rain water runoff. ​See pictures of the completed rain garden below.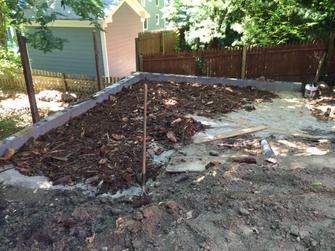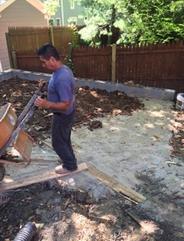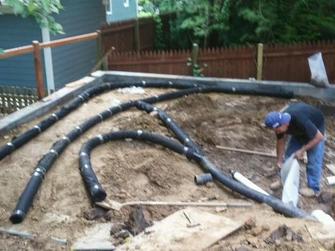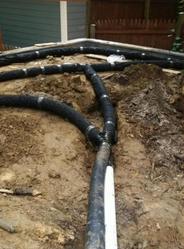 "THE OCTOPUS" – RAIN WATER DRAINAGE
The GCM Rain Garden will have an "octopus" system of pipes to divert, slow down, and release the water slowly into the rain garden layers. These rain garden layers consist of sand, decaying wood and bark, peat moss, then a mixture of soil and organic soil conditioner. These layers will help soak up the rain water and help support the sustainable rain garden. Rain gardens do not require a lawn mower or watering, making them sustainable and "Green"
SUSTAINABLY HARVESTED PEAT MOSS
GCM chose LAMBERT Peat Moss for their commitment to the environment by following the CSPMA Preservation and Reclamation Policy guidelines, which includes returning harvested peatlands to functioning wetlands and other exclamation options.

CSPMA stands for CANADIAN SPHAGNUM PEAT MOSS ASSOCIATION, "an association of peat moss producers and related Enterprises devoted to promoting the sustainable management of Canadian peatlands and the industry. They provide support and advocacy for our members and leadership in environmental and social stewardship and economic well being related to the use of Canadian peatland resources."


CSPMA WEBSITE:

​http://www.wetlandshydrology.com/cspma.html

Lambert Peat Moss reports that "Canadian Sphagnum Peat Moss is regenerating more than 70 times faster than the current harvests. Several environmental agencies oversee all aspects of the peat bogs to insure a safe and sustainable ecosystem. Canadians are proud to share this sustainable resource to improve your soil and provide soil-less media."

Lambert Peat Moss Website:
National Resources Research Council & Peat Moss:
​http://www.nrri.umn.edu/cartd/peat/restorationcreation.htm

Garden Rant – Jeff Ball Defends Peat Moss:
http://gardenrant.com/2010/12/jeff-ball-comes-to-the-defense-of-peat-moss.html
SUSTAINABLE PLANTS
GCM used a variety of plants for our rain garden, all chosen to use very little water, and be as sustainable as possible. The plants will help hold the soil and filter the rain water, helping prevent rain water runoff into the watershed.

PLANTS

Siberian Iris

​Japanese Iris

Maiden Grass​

Cranesbill

​Astilbe

​Achillea

​New England Aster

Smooth Aster
Coneflower

Day Lily

Hydrangea

Sage

Lavender

​Hay-scented Fern

Japanese Pained Fern

Forsythia

Garden Pinks

Cotoneaster​​

TREES

Elderberry

Dogwood​​​​​​​​​
HELPFUL LINKS FOR SUSTAINABLE LANDSCAPING & RAIN GARDENS
EPA – RAIN GARDENS – http://water.epa.gov/learn/training/wacademy/upload/raingardens_dec10_2slides-2.pdf
http://www.ecolandscaping.org/03/rain-gardens/native-plant-selection-for-biofilters-and-rain-gardens/
CB BAY TRUST & RAIN GARDENS – http://www.cbtrust.org/site/c.miJPKXPCJnH/b.5458177/k.891D/Rain_Gardens.htm

​10,000 Rain Gardens Project – http://raingardens.spawnusa.org/index.html